Welcome to Peace News, the newspaper for the UK grassroots peace and justice movement. We seek to oppose all forms of violence, and to create positive change based on cooperation and responsibility. See more
"Peace News has compiled an exemplary record... its tasks have never been more critically important than they are today." Noam Chomsky
Peace News an exhibit in Picasso exhibition
The Peace News log is a space for reflection, reportage and analysis, by activists from the UK and beyond. It is the blog of Peace News, the grassroots peace movement newspaper. If you have an article that you would like to contribute to the Peace News log, please contact us.
Peace News log categories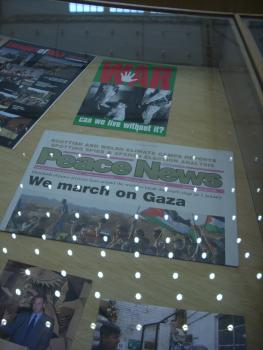 A reader in Germany has sent us news of PN appearing as an artefact in an art exhibition!
A display case in the 'Picasso and contemporary art' exhibition in the gigantic Deichtorhallen art centre in Hamburg, Germany, contains a recent edition of Peace News!