Welcome to Peace News, the newspaper for the UK grassroots peace and justice movement. We seek to oppose all forms of violence, and to create positive change based on cooperation and responsibility. See more
"Peace News has compiled an exemplary record... its tasks have never been more critically important than they are today." Noam Chomsky
Review: 'The Bomb'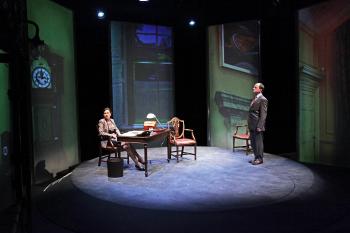 The Bomb: a partial history, in two parts. Directed by Nicholas Kent. Tricycle Theatre, London, 9th February – 1st April 2012. www.tricycle.co.uk
Reviewed by Patrick Nicholson
The Tricycle Theatre, "Britain's leading political playhouse" according to the Times, is running a season of events examining nuclear weapons and the nuclear debate. A centrepiece of this season is an ambitious two-part, five hour sequence of ten new short plays exploring nuclear issues, the performances punctuated and complemented by verbatim readings, archive footage and images.
The ten plays explore nuclear weapons from a refreshingly diverse range of perspectives, from Attlee wrestling with the decision to develop Britain's bomb to Indian physicists trying to reconcile Gandhi's legacy with concept of the "Peaceful Nuclear Explosion"; from bungling would-be nuclear arms dealers in the Ukraine to a defecting Iranian nuclear scientist locking horns with his cynical CIA debriefer. My personal favourites were the opening plays of each half: Zinnie Harris's "From Elsewhere: the message…" follows, with an totally unexpected combination of farce and intensity, émigré physicists Otto Frisch and Rudolf Peierls as they prepare to take their momentous memorandum to Whitehall, making clear the practical feasibility of a fission bomb for the first time. The second quintet opens with Colin Teevan's amazing "There was a man. There was no man." in which we see the consequences of the assignation of an Iranian scientist from two different sides, throwing out shards of insights both political and personal: a spine-tingling experience.
The wider season includes stand up comedy, science lectures, visual art, and debates. The nuclear film festival (22-25th March) looks particularly good. I recommend getting along to experience some of this rich and stimulating mix before it's too late!